---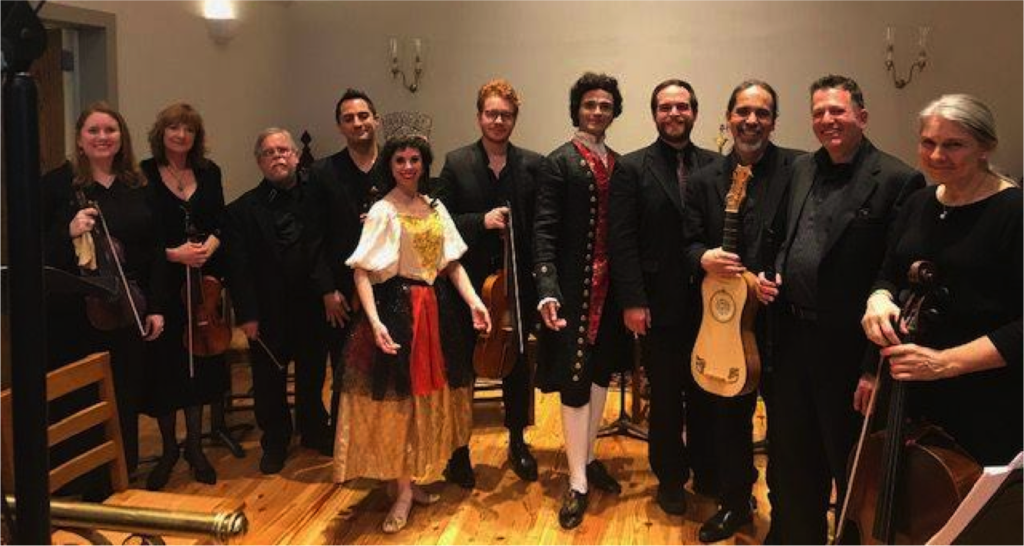 Founded in 2010, La Fiocco performs music of the late Renaissance, Baroque and early Classical eras on period instruments. We present an annual series of three concerts each at Trinity Episcopal Church in Solebury, Pennsylvania and at Christ Congregation in Princeton, New Jersey. La Fiocco has performed at other venues in Pennsylvania, New Jersey, New York, Massachusetts and Rhode Island.
La Fiocco's core musicians include baroque violinists Claire Smith Bermingham & Nadir Aslam, baroque cellist Vivian Barton Dozor, violist da gamba Donna Fournier, harpsichordist Benjamin T. Berman, baroque bassoonist Allen Hamrick, and recorder player, harpsichordist, and artistic director Lewis Baratz. More than 50 musicians have performed with La Fiocco including sopranos Laura Heimes and Agnes Coakley Cox, countertenors Daniel Moody, Ray Chenez, and Jordan Rutter, baritone Brian Ming Chu, baroque trumpeter Perry Sutton, baroque violinists Elizabeth Field, Dan McCarthy, Jeremy Rhizor, and Nadir Aslam, baroque oboist Sarah Davol, cornettist and theorbist Nathaniel Cox, lutenists John Armato, Laudon Schuett, and Arash Noori, baroque flutist Eve Friedman, and violist da gamba Donna Fournier.  In 2019 renowned dancers Carlos Fittante and Robin Gilbert Campos performed with La Fiocco in our sold-out Sarabande: The Baroque Dance Project, and the Washington Cornett and Sackbutt Ensemble and the Madrigal Singers of Bucks County Community College joined us for Stravaganza in Eco, a celebration of the polychoral tradition of the early 17th century.
Our programing illustrates our interest in exploring original sources and sharing rarely heard repertory with our audience. Past performances have included Bach & Before Vivaldi and Company, Délices de Versailles, Sound the Trumpet, The Cavalier Return'd, Golden Age of the Countertenor, Phantasticus!, Shakespeare's London in Music and Song, The King's Music, and Philadelphia Musick: An Early American Salon. We have performed frequently at Laurel Hill Mansion in Philadelphia's Fairmount Park and at the Delaware Valley Guild for Early Music's annual festival.
La Fiocco's Funding
La Fiocco is a Commonwealth of Pennsylvania nonprofit organization. We have received grants from the Pennsylvania Council on the Arts and Visit Bucks County. However, we rely on individual donors, friends, and community members to help us fulfill our mission, as ticket sales cover only about a third of expenses. Please visit our Gifts & Support page to learn how to donate. 100% of your gift goes to help La Fiocco operate and hire musicians. No third-party fundraising services are used, and our Board are volunteers.